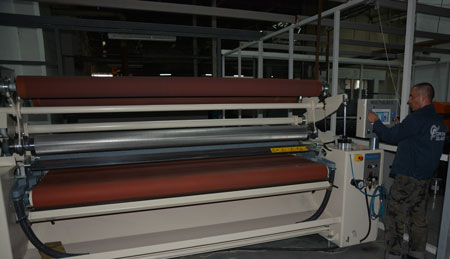 Rolling technique
Technology of manufacturing:
The rolling technique (applying paint by passing glass between metering and pressing rollers). Glass-ceramic paints of «VITROMAIL» make» by Italian firm «Pemco International», which is a leading international manufacturer of lead free, water-based fired enamels are used.
The model "Gemata""Rollmac""Moltiglass" (Italy) represents the most innovative machine for glass painting with a roller, it has three rollers for three types of painting: enameling, painting and design printing.
The machine is designed for painting all types of sheet glass which is available on the market with thickness from 2 mm to 25 mm and working height from 600 to 2600 mm.
The main characteristics: removal of paint gathering at entry and exit of glass and uniformity of painting of sheet glass. The model Multiglass is equipped with a special rubber coating, that is resistant to oils and solvents, which allows to move sheet glass safely.
This method of manufacturing painted glass has a number of advantages:
demonstrates high productivity
enables to reach uniformity of applying paints
on a glass surface a change of density of applying paint by means of speed and a type of roller regulation is possible