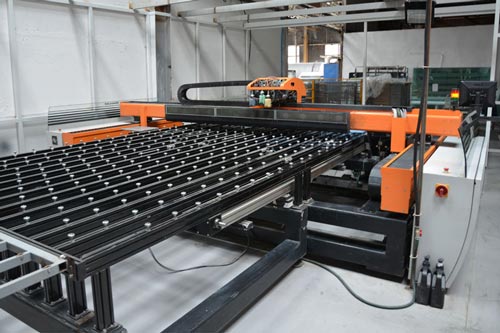 Ceramic printing is made on a printer GlassJet by Dip - Tech (Israel) company. It's a universal flatbed device, which is suitable for printing on any glass, including internal and external sides of glass. The printer allows to reproduce the effect of full-color printing, with minor restrictions.
Technical capabilities of manufacturing decorative glass with digital printing:
It is possible on all types of glass at optimal resolution for comfortable viewing (360 dpi).
A format of original image can be various, and glass sizes - min 400х400 mm, up to max 3700х2400 mm
The glass thickness at such printing can be up to 19 mm.
The printer allows to use simultaneously six colors of ink, which have a large number of shades. The inks themselves are not a physical or biological agent, which stimulates neoplasm. After that glass goes through a process of convective drying and is subjected to tempering, thus, it is safe.
There is also a possibility to change the density of applying paint and its use in the composition of triplex.
The following kinds of images can be applied with such printing: graphic images, photo images, pictures and their analogues. A format of image is TIFF, JPEG, PDF, EPS.
Screen printing (silk-screen)
Screen printing is one of types of decorative glass processing. Silk-screen is a process of decorating at which images are reproduced with a stencil – a printed form through which paint gets on glass in places, corresponding printing elements.
An automated line of silk-screen printing with the working size of 1000 × 1500 is used. There is a possibility of applying one layer and color as well as some layers and colors.
The factory uses one-component ceramic paints (Ferro, Johnson Matthey, Heraeus). These paints are used for manufacturing automobile glasses, decorating architectural (façade) and furniture glass and also for special glasses, e.g. refrigerator shelves or protective glasses in the doors of domestic gas and electric cookers.
After preparatory drying of ceramic paints they are vitrified into a glass surface during a thermal tempering or bending (a method of glass forming, allowing to receive a shiny surface) at 620-660 ° С within 2-5 minutes.