Glass units with a decorative interlacing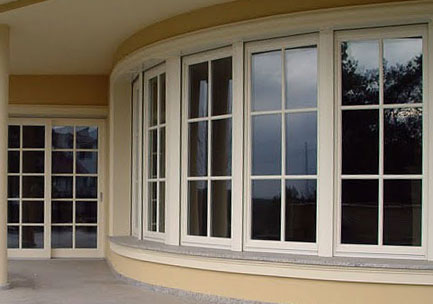 A decorative interlacing (spross) is intermediate vertical and horizontal aluminium strips of a glass unit, which are put between panes of glass for a decorative design of a window structure. They are inserted both inside and outside of a glass unit and divide a glass surface, imitating a traditional window construction.
Internal sprosses or "panel strip" inside a glass unit are installed inside just before its manufacturing.
External sprosses are a window decorative element which has the appearance of a strip, installed on a glass unit outside, giving a window a different design and an individual style. With external sprosses a design is created according to drawings by interlacing of thin strips which are glued to a glass unit. In color sprosses are matched to a window color, creating the integrity of a construction.
Sprosses for glass units can be wide, narrow, straight and milled, bent in a shape of an arc or a circle, they can be joined at various angles, making different shapes (sun, stars etc.).
With sprosses glass can be divided arbitrarily – symmetrically, asymmetrically, into two or more similar fields or some sectors of an irregular shape.
Advantages of sprosses:
Decorative ornament. You can emphasize the individuality of the object with sprosses.
Increased fixing. Due to unique properties of hardness, sprosses can strengthen a significant area of a window.