Energy saving glass units

The principle of making an energy saving glass unit is in applying hard or soft coating on a surface of common glass (float) by technique of magnetic spraying. The transparency of such glass to visible light practically does not change as the spraying has a very thin layer. Manufactured by this technology, an energy saving glass unit with hard (k-glass) or soft (i-glass) coating works as a kind of thermal valve, it transmits over 75% of visible light and at the same time reflects more than 70% of thermal radiation back into a building. In summer, such coating reflects thermal (infrared) part of solar radiation. As a result, in winter, it gets warmer in a building, and in summer, it gets cooler, which helps to reduce energy consumption, both on heating and conditioning.
Low-emissivity glass with soft coating in its emissivity outperforms common glass in 21 times, glass with hard coating in 5 times.
Due to its thinnest, invisible energy saving coating a glass unit with thickness of only 44 mm keeps heat better than a wall with a thickness of 1 m and more, therefore there has been a tendency of increased use of big size energy saving glass units which gives in addition a larger flow of day light.
To enhance the function of heat preservation an energy saving glass unit can have a chamber filled with argon. This inert gas is characterized by high resistance to heat transfer and allows to save another 10-15% of heat. Therefore, for ensuring the best heat insulation, a glass unit with energy saving coating and inner filling of inert gas is ideal for that.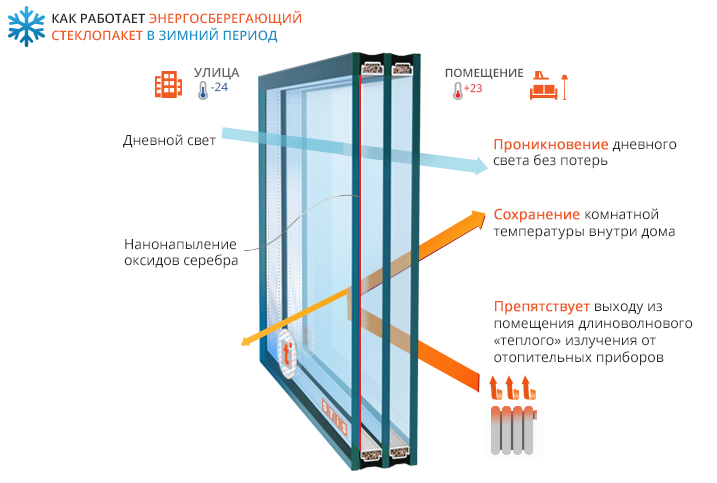 The formula of glass for energy saving glass units: (4-16-4i). (4-10-4-10-4i). (4-12-4-8-4i). (4-10Ar-4-10-4i).(4-10Ar-4-10Ar-4i)**
The advantages of energy saving glass units:
Allow to reduce to 70% heat losses from a building
Have high transmittance
Prevent condensate formation on glasses and their freezing
Keep warmth from heating appliances in winter
Protect from hot weather at summer time
Considering the fact that standards of energy saving and safety are constantly increasing, glass manufacturing and processing are in a continuous search for new technologies and innovations.