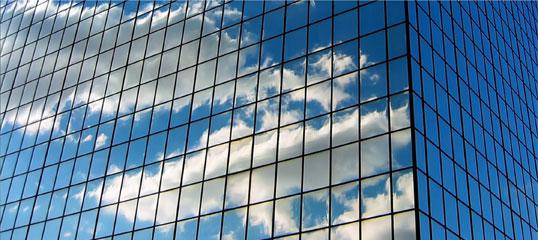 The assortment of manufactured products fully meets the needs of consumers and includes more than 3,000 items, including the articles from flat tempered glassstalinite, curved tempered glass, enameled glass (stemalite), and tempered glass with various decoration techniques.
Glass, having various properties, is a unique and popular material in the modern world. Due to peculiarities and varieties of these properties this universal material has become ingrained in our everyday lives. There is a number of factors to be taken into account while choosing glass: heat insulation, sun protection, degree of light transmission, glass color, noise protection and safety.
Low-emissivity energy-saving glass - energy-saving glass has the most important function – high heat insulation. Such glass prevents from heat losses connected with the effect of thermal radiation. Energy-saving property of glass is acquired by applying on its surface low-emissive optical coating.
Glass has the following advatanges:
improves heat insulation/reduces heat losses, heating costs
optimizes solar heat
reduces condensation
reduces cold radiation and draught
transmittance and reflection of neutral color
has high light transmittance
Tinted glass can be used as sun protective glass. It protects from sun light and limits transmittance of ultraviolet radiation into a building, protecting furniture and interior objects from color fading. Tinted in mass glass is transparent color glass which acquires its properties due to float-technology of manufacturing. Glass, colored in mass, decreases transmittance both visible light and solar thermal energy. Tinted in mass glass has a quite high absorption coefficient of solar thermal energy and is subjected to the influence of heat overloads, therefore in most cases it is recommended to temper it to prevent its destruction. Tinted in mass glass finds a wide application in construction – both for exterior and interior facing of buildings, giving them a modern, original look. Thanks to these properties, tined glass is used for manufacturing all vehicles, furniture, household appliances and in many spheres of human activity.
Reflectory glass or sun protective glass is glass specially covered by metal oxide, which is applied by pyrolytic technique during the process of manufacturing, or, to be exact, on one of its surfaces. Reflectory glasses are designed to ensure extra protection of buildings from ultraviolet solar radiation. Reflectory glass reflects solar energy. The main advantages of this glass are: sun protection with a medium effect, silvery appearance, high reflectivity, steady surface. Reflectory glass can be tempered and laminated, a special energy-saving coating can be applied on it.