A significant part of the manufacture is high-performing automated lines for glass tempering. The peculiarity of theses lines is a capability to temper both flat and bent (curved) glass.
The lines for glass tempering are designed for bending and tempering: flat, transparent glass, tinted in mass, dull (sateen), enameled, reflectory, energy saving glass.
Manufacture :
Glass tempering is made on four lines of horizontal tempering of flat and bent glass, furnaces are manufactured by "North Glass", "Tamglass" (Finland), which are the world leaders in producing equipment for glass processing.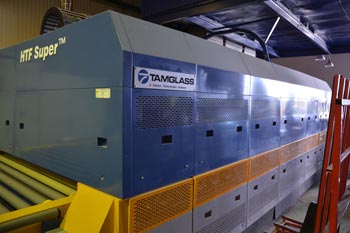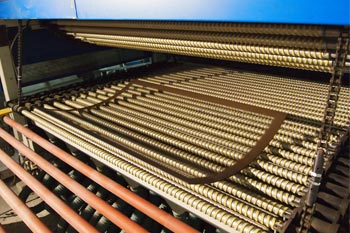 Operating principle
Tempered glass is manufactured by heating common glass to the temperature of 600C. Then it is cooled rapidly by an air stream. It results in redistribution of stresses inside glass and thermally tempered glass acquires new qualities:
hardness to curve increases
hardness to a shock and impulse — 50 N/мм2 increases according to DIN EN 12600: 1996—12
resistance to temperature changes from 40К to 150К increases
safety at destruction: when breaking, glass falls apart into small pieces with blunt edges which prevent injuries and cuts
Characteristics:
CGS system is a new system of glass tempering with coating:
A unique method of tempering which is a combination of focused radiant heating of glass and heating by using thermal convection
creation of different temperature profiles on a glass surface, which significantly increases quality of products and productivity of the processes
efficient control of tempering low-emissive glasses by using heating profiles and convection
excludes the impact of emission factor
ensures even heating of low-emissive glass throughout thickness
specially designed for glasses with coating, it ensures the highest quality of glass due to optical parameters and allows to avoid fading of coating, reduces thermal impact
a finished product, which is manufactured on glass tempering lines, meets the highest standards for physical and mechanical properties, fragmentation, optical and planar parameters
control system, based on the industrial computer, allows to store and reproduce modes of glass tempering for all previously completed orders.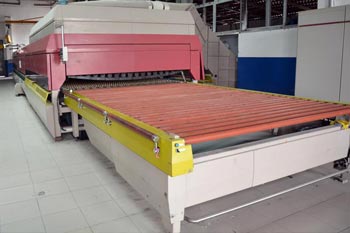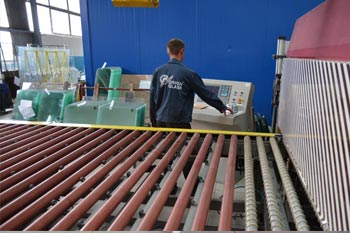 Technical capabilities of manufacturing :
Flat glass tempering
Maximum size of glass: 2440x4400 mm
Thickness of glass: 3,5 —19 mm
Minimum size of glass: 200 x350 mm , 400х120 mm
Maximum sizes of tempering curved glasses :
Thickness of glass: 5 -19 mm
1 section - 3,mm R=600mm, 4mm R= 500mm , 5-6 mm R=350mm , 8-10mmR=1000mm
2 section - 5–6 mm R = 800 mm , 4,8–10 mm R = 1000 mm , 12 mm R = 1200 mm
3 section - 5–6 mm R = 1300 mm, 8–10 mm R = 1500 mm, 12–15 mm R = 1800 mm
4 section - 4–6 mm R = 900 mm, 8–10 mm R = 1300 mm, 12–15 mm R = 1500 mm
Capability of thermal testing of tempered glass (HEAT-SOAK-TEST OVEN)