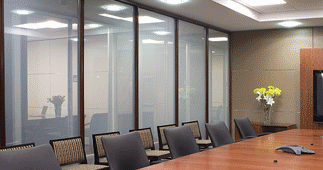 Electrochromic Smart glass is glass with changing optical properties, which changes its transmittance under the influence of electric current and is a product of high technologies on the base of liquid crystals. The technology, used for manufacturing of "smart" glass allows to move glass from a transparent state into a semitransparent one with a white tint.
A work area of glass, manufactured by a unique technology "smart-glass" consists of two layers of electrically conductive film with liquid crystal particles between them. When smart glass is switched off it is a dull white surface because crystals in it are set chaotically. Under the influence of electricity crystals take up a parallel position towards the electrostatic field and glass becomes transparent and slightly opalescent, freely transmits light into a building.
The sphere of use
Façade glazing within a glass unit:
cottages, flats, a winter garden and clear-story glazing
Shops: windows transforming into projection screens, display cases
Sport facilities: gyms, massage rooms, treatment rooms
Partitions with a changeable level of transparency (offices, banks, meeting rooms and conference halls and also places where an extra level of confidence is needed)
Automobile glasses (exterior glass, interior partitions for dividing space between passengers and a driver)
restaurants (VIP-zones)
advertising: designing of non-standard advertising stands etc.
back-projected screens
The main properties of Smart-glass:
Light control, a possibility to control dimming
It reduces expenses on conditioning and serves as an alternative to blinds, curtains.
Confidentiality. A possibility to regulate a degree of glass transparency.
In a transparent state liquid crystal or electrochromic smart glass does not transmit UV radiation
Resistance to destruction, it has increased reliability and transparency
Smart-glass does not require special service conditions, its liquid crystal layer is between layers of common glass, so it is cleaned and treated like common one. With the availability of it, there is no need to purchase curtains and blinds.
Smart-glass can also be used as a shock-resistant construction. To increase its anti-vandal properties a special protective film can be applied on it, which increases a price a little, but it significantly improves service performance of the material. Besides, bulletproof glass units are manufactured of such glass, which are in demand, for instance, by bank organizations.
The main technical characteristics:
Electrochromic liquid crystal-based film is used in manufacturing of Smart. Liquid crystal layer is between two special films (EVA).
Energy consumption of this type of glass: no more than 7 W/м2
Power voltage: 110 V of alternate current
Switching from a dull state into a transparent one: less than 1 second
Working temperatures range: from -25оС to +60оС
Light transmission: to 80% in a transparent state/to 80% in a dull state
Transparency: more than 80% in a switched-on state, less than 8% in a switched-off one
Standard sizes of electrochromic film:
width: 980мм or 1200 мм
length 2000 мм; 2200 мм; 2400 мм; 2600 мм; 2800 мм; 3000 мм