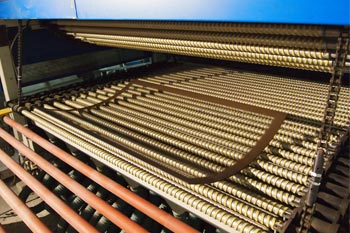 Bending is a method of processing which consists in bending sheet glass. The process is carried out under high temperatures, a sheet bends under its own weight or under pressure, after shaping the glass is subjected to tempering. Currently, two technologies of manufacturing bent (curved) glass are used. Bent glass is a sheet of glass, which gets a figured shape under temperature, using special forms (frames), made of metal. Glass, heating up to 600 degrees Celsius, becomes quite plastic and as a result sags by the force of gravity and takes the shape of a metal mould. Moreover, modern technologies make it possible to bend sheet glass in a complicated shape and this eventually allows to make a spherical glass construction. The second technology is completely mechanized, curved tempered glass is made in a special furnace without using any forms. After being heated to a plastic state, a glassworkpiece is automatically moved into a separate furnace section where it receives the required shape by means of special rollers. The radius of half cylinder is set in the computer mode. In contrast to the first manufacturing technology, curved tempered glass, acquires all the properties of safety glass.
Glass bending by contemporary method demolishes a long-standing belief about the fragility of sheet glass. It creates not only stylishbut safe high-strength constructions as well. Also with new technologies bent (curved) glass can take various shapes, which extends boundaries to realize design ideas.
Technical capabilities of manufacturing
Maximum sizes of tempered curved glasses:
At R - от 1200 mm 3600 х 2350 mm (where 2350 mm – arc length)

At R – от 350 mm 2000 х 700 mm (where 700 mm – arc length)
Curved glasses, besides their high-strength characteristics allowto receive a range of the following advantages:
the preservation of all original translucent characteristics of the source material

the possibility of long-term operation due to the resistance of bent glass to virtually any aggressive environmental influences

when used in window construction,balcony glazing and other translucent products the material provides an excellent panoramic view

thepossibility to use all types of glass for bending - frosted and bleached, multilayer (triplex) and painted, mostly used in window constructions or glass units.
Moreover, curved glass can easily be taken to all kinds of processing, that enables to create from it decorative and functional products of any configuration,to apply different images and inscriptions on the surface via photo printing and other technologies.
The use: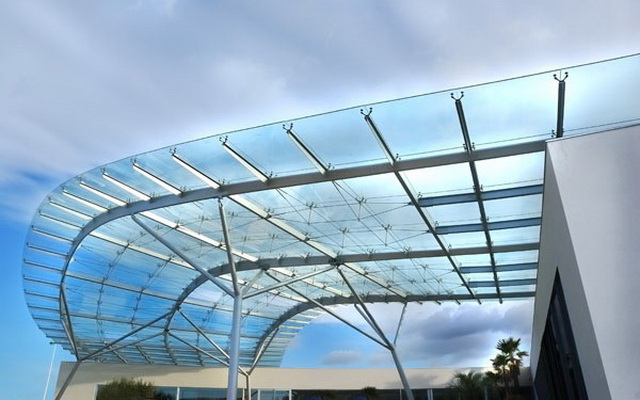 Windscreen glasses for transport (public, railway, water)

glass façades and building windows

commercial and industrial equipment (refrigerated cases and furniture windows), glass furniture, interior

bounding constructions (handrails and staircases, panoramic elevators)

glass partitionsin buildings(shower enclosures, shop windows, office partitions)